Benefits of Steel Strapping For Manual Strapping Applications
Author:admin Date:2022-09-22
If you need to strap heavy loads manually, you should use steel strapping. It has incredible tensile strength, is resistant to ultraviolet rays, and is much cheaper than polyester strapping. You can also purchase steel strapping materials online. Here are some benefits of steel strapping. Read on for more information. * Why is steel strapping less expensive? Learn more about the differences between polyester and steel strapping. Also, learn the difference between steel and polyester strapping and their uses.
The material steel is made of is commonly used for manual strapping applications. Steel is used in these types of applications due to its high break strength and resistance to splitting. Before choosing a steel strapping material for your heavy-duty manual strapping application, consult with your decision makers about the necessary elasticity and climate resistance for your load. Steel strapping is also Benefits of Steel Strapping For Manual Strapping Applications
Steel strapping is the strongest and oldest type of strapping currently on the market. The material is available in varying thicknesses and widths. Steel is the ideal strapping material for heavy-duty manual strapping applications. It is available in various widths and grades for a wide variety of applications, and is used when extreme strength is needed. It is especially suitable for transporting heavy and stable loads.
Steel strap is one of the strongest materials available for strapping. Unlike other materials, steel has the ability to hold incredibly tough objects without stretching. Once it breaks, it is no longer usable because it is incapable of bending. Because of this, steel strapping is not suitable for securing glass packaging, corrugated storage boxes, or metal shipping containers. However, steel strap can still be used to hold small items securely.
The benefits of steel strapping are many. Not only is it resistant to the weather, but it can also hold heavy loads. Steel is often used for construction, over-the-road transportation, and securing logs and industrial equipment. In addition, it's highly resistant to temperature changes, moisture, and UV rays. This makes it the ideal strapping material for outdoor use. Plus, steel banding is highly durable and can secure materials with sharp edges or hard corners.
While steel strapping is a good choice for outdoor use, it still has a few limitations. It is heavy and corrosive, but it offers greater protection than plastic strapping. Its high resistance to UV rays means it's less likely to fade, rot, and deteriorate when exposed to outdoor conditions. Steel straps are great for bundling and packing wood, and can also resist uv rays, making them ideal for outdoor use.
It is less expensive than polyester strapping
Although steel strap is less expensive than polyester, you should still be aware of the disadvantages of polyester. This strapping material is not as strong as steel, so it is less cost-effective for many applications. But, it has many advantages and can help you save money in the long run. For one, it is a better choice for heavy or non-compressible loads, as it is less likely to cut or give way than polyester. Polyester is better suited for loads that have sharp edges or are subject to expansion and contraction. It is also better suited to loads that have a sensitivity to abrasion.
When it comes to safety, polyester has a number of advantages over steel strapping. For one, it's less likely to break, which is a great benefit for people working around the load. It also has smooth edges and weighs a fraction of the material. In fact, polyester is 50% to three times less expensive than steel strapping. And, it's more convenient to use than steel. If you have a job site where it's difficult to work with steel strapping, you'll be happy to know that polyester is safer and less costly to handle.
product name:
Hand-held electric storage PET strapping machine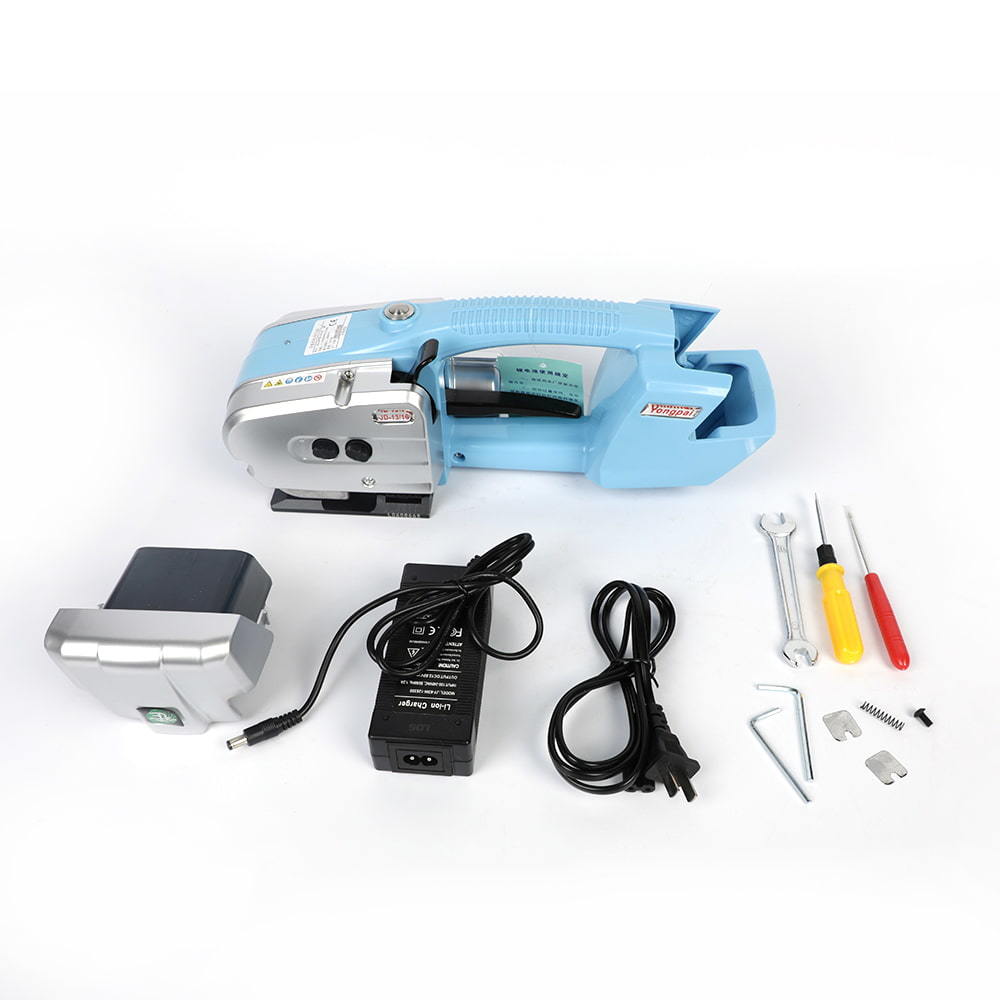 Product description:
Advantage:
● Automatic
● Easy to Operate
● High Productivity
● Long Service Life
Application:
● Suitable for paper industry, aluminum industry, steel industry, stone wood, wooden box packaging, chemical fiber cotton spinning, chemical industry, metal products industry.